Solar is commonly seen as an expense by some potential buyers. Here are three ways solar contractors can get customers to understand solar as an investment—and how your customers can gauge their solar panel return on investment.
1. Immediate Return
Installed solar immediately starts reducing your energy bill. How much varies by state; according to SaveOnEnergy, "The state of California has the best ROI on solar panels, with an average yearly savings of around $1,500, while Washington state gets the lowest ROI with an average yearly savings of around $409."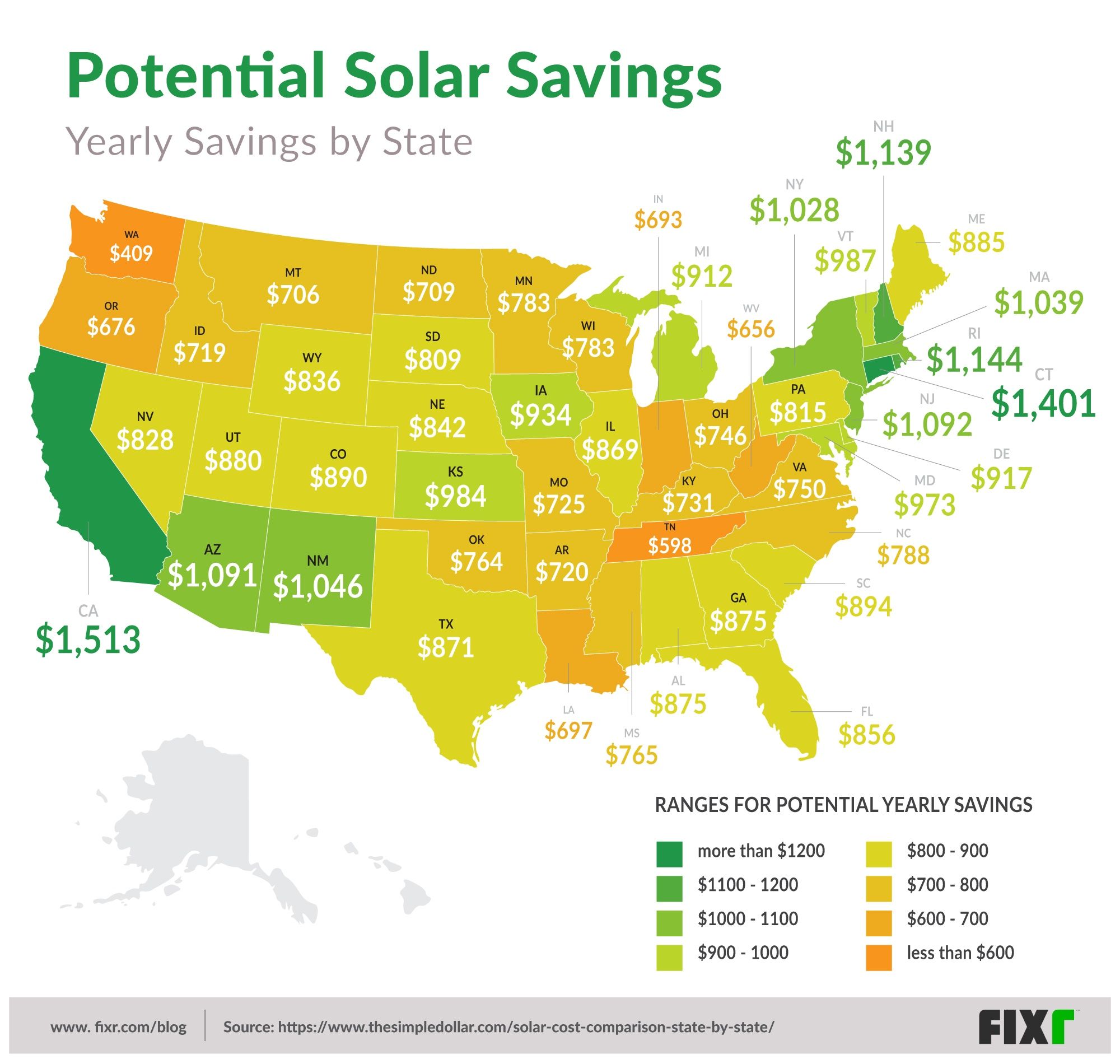 Image source: https://www.fixr.com/blog/2018/05/24/mapping-how-much-your-home-can-save-through-installation-of-solar-panels/
In a PV Magazine article, Solar Reviews CEO Andrew Sendy looks at return on investment for residential solar in various cities with very different levels of electricity costs and concludes that "current data says solar installations are still one of the best home improvements you can make—bar none" and that "in most areas, the payback period is often four years or less—meaning that installing solar panels provide 100 % ROI."
2. Capital Investment (i.e., Increased Home Value)
Save On Energy reports, "most home-buyers are willing to pay around $15,000 more for a home with solar energy than a similar home without. So, even if they plan on selling their home in five to 10 years, they're still coming out ahead."
According to the National Renewable Energy Laboratory (as reported by Cost Of Solar), each additional $1 in energy bill savings (from your solar installation) adds $20 to your home's total value—and can help your home sell 20% faster!
The US Department of Energy's Lawrence Berkeley National Laboratory (as reported by Direct Energy) found that home resale values increase an average of $4 for each additional solar watt installed. "This means that a standard 5kW system could increase your home's value by as much as $20,000." The Department of Energy also found that solar-enabled properties spend up to 50% less time on the market.
3. Beyond the Bottom Line
How much are your customers willing to spend on a healthier, more resilient future?
The public wants 100% renewable energy quickly, but many utilities are dragging their feet. Does this mean that a significant sector of the public is willing to invest directly in solar themselves? In short, yes:
Overall and on average, Americans are willing to pay an additional $16.25 per month for renewable energy. About one in six (17%) say they would pay between $1 and $10 more, while 15% are willing to pay between $11 and $30, and 14% are willing to pay between $31 and $200 more. Among those who are willing to pay at least some amount more per month, the average is $33.72 per month. ~Yale Program on Climate Change Communication
CNBC agrees that Americans want more clean energy. Here's what they're actually willing to do to get it. Reporting on a 2018 Deloitte Resources Study, CNBC says "a generational shift could soon cause consumers to take bigger steps in their personal lives than merely switching to LED lightbulbs and adjusting their thermostats." Consumer Reports came to a similar conclusion, and found that 53% of survey respondents said "they would be willing to install solar panels on their own roof or participate in a community solar garden or array if they could recover their investment in five years."
For additional information regarding solar panel return on investment:
Solerus Can Help!
Solerus Energy believes that solar contractors have it hard enough with their profits being eaten away at by the soft costs of solar. Solerus is there to help you maximize your highest-value lead provider—your customers—with affordable equipment and an array of helpful services for solar contractors.
Design Services
Solerus Energy offers two solar permit services, full solar design and permit package and solar single line diagram (free of cost with any residential system order up to 25kW or $50 with on order) for ANY residential and commercial solar installation in the USA. That includes battery back-up and off-grid solar installations, small and large commercial installations!
Solerus Energy also offers Structural and Electrical PE Stamps in all 50 states (separate quote upon request).
A Full Solar Design and Permit Package set is free with a residential system between 10kW and 25kW, or $.01-$0.05/W, depending upon system size.
Solerus offers everything you need to complete the solar permitting process in your area. This includes:
Cover page
Site plan for your solar installation
Array layout and attachment details
Single Line Diagram
In addition, Solerus Energy can offer full system layout and shading analysis (free w/full system order or $250 without and component order).
Takeaway
Your customers want solar. Solerus Energy can help you focus on growing your customer base, whether you are a residential or commercial contractor, at discount prices.